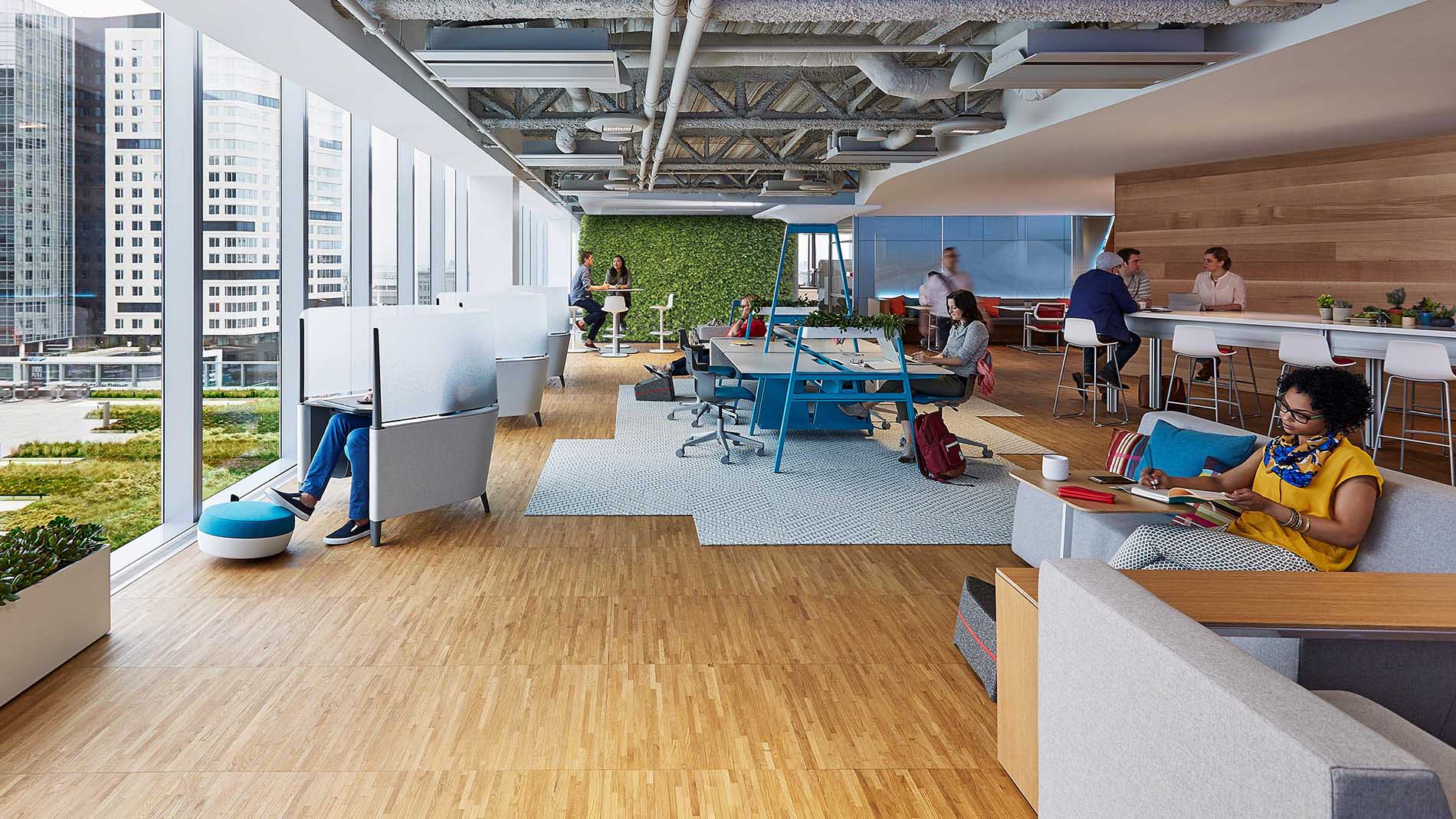 The office of the future must be capable of linking flexibly with the new networked society
The office of the future will be more closely adapted to work processes, needs for communication and new models of cooperative working that have been changed as a result of digitalisation and globalisation. 61 percent of German office workers represented in the survey are looking for more flexible structures in the office environment and would, in future, prefer not to be tied to a single fixed workplace in the company. To date, things still look different from that; 58 percent of respondents are currently not consulted about the choice of their workplace in the company. This is the conclusion reached by the study 'Working Spaces 2025', undertaken by the Pragma Institute (Reutlingen, Germany) on behalf of Messe Frankfurt for Paperworld – the world's leading trade fair for stationery, office supplies and stationery.
In spite of the wish for greater flexibility and mobility in the office environment, the majority of those polled were disinclined to work in cafés, parks and other public spaces (72 percent). It is, therefore, all the more important for companies to provide their employees with an open office landscape, with flexible opportunities for privacy and meetings. Traditional, individual offices belong just as much to the past as open-plan offices, since they do not create the dynamic space which is required for more intensive, spontaneous and project-driven collaboration. 36 percent of office workers think that cooperation in virtual teams is increasing, whereas 50 percent of those polled still do not currently work together in virtual teams. The wish of 70 percent of respondents for informal environments for meetings in the future reflects this development.
One of the most important findings of the study is that the office environment currently represents a significant barrier to efficiency, creativity and job satisfaction in companies. Altogether, 41 percent of office workers emerge as dissatisfied with their working environment and blame a lack of say in the design of their office, inadequate ergonomic features, lighting and acoustics. More than half of respondents expect their employers either to have massively improved the quality of their office environment by 2025 or even to have completely rethought the design of their office. At the same time, many office workers want to see an individual restructuring and optimisation of their workplace (29 percent). 26 percent are concerned rather more with optimising health and safety considerations and 22 percent with optimising technical features. Respondents rated the opportunity to have a say in the design of the office as very important for efficiency and productivity (78 percent), creativity (67 percent) and job satisfaction (60 percent).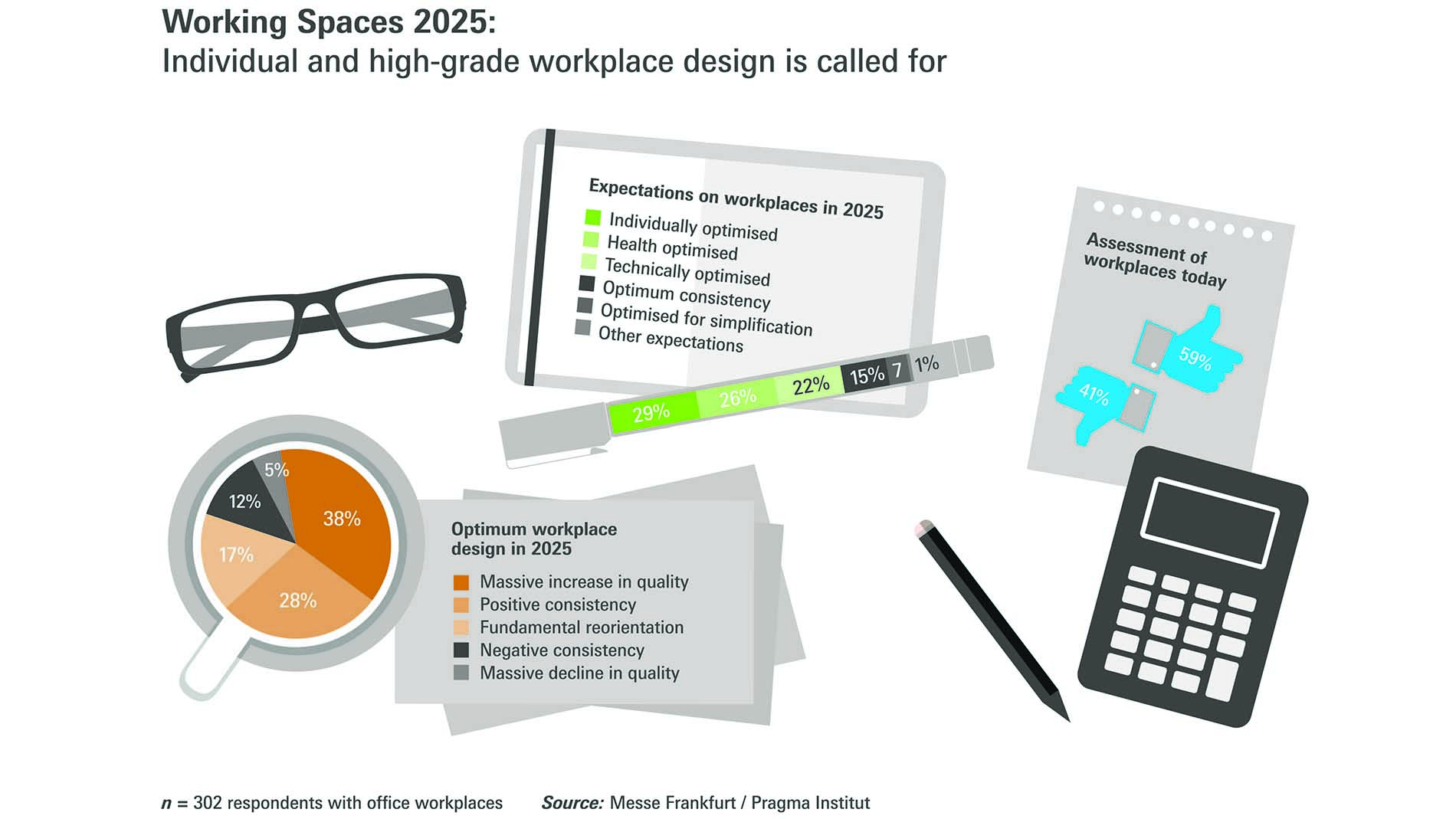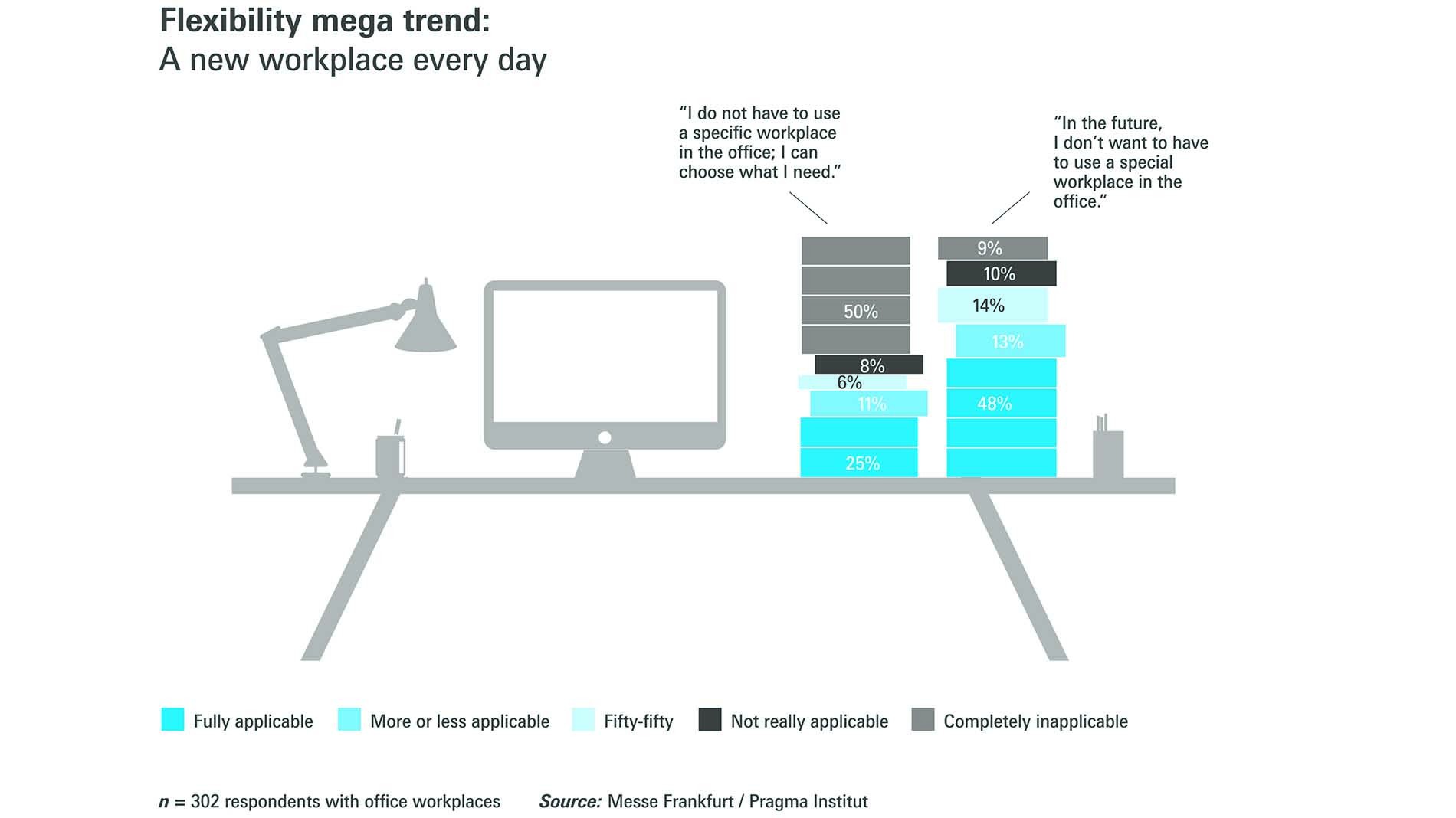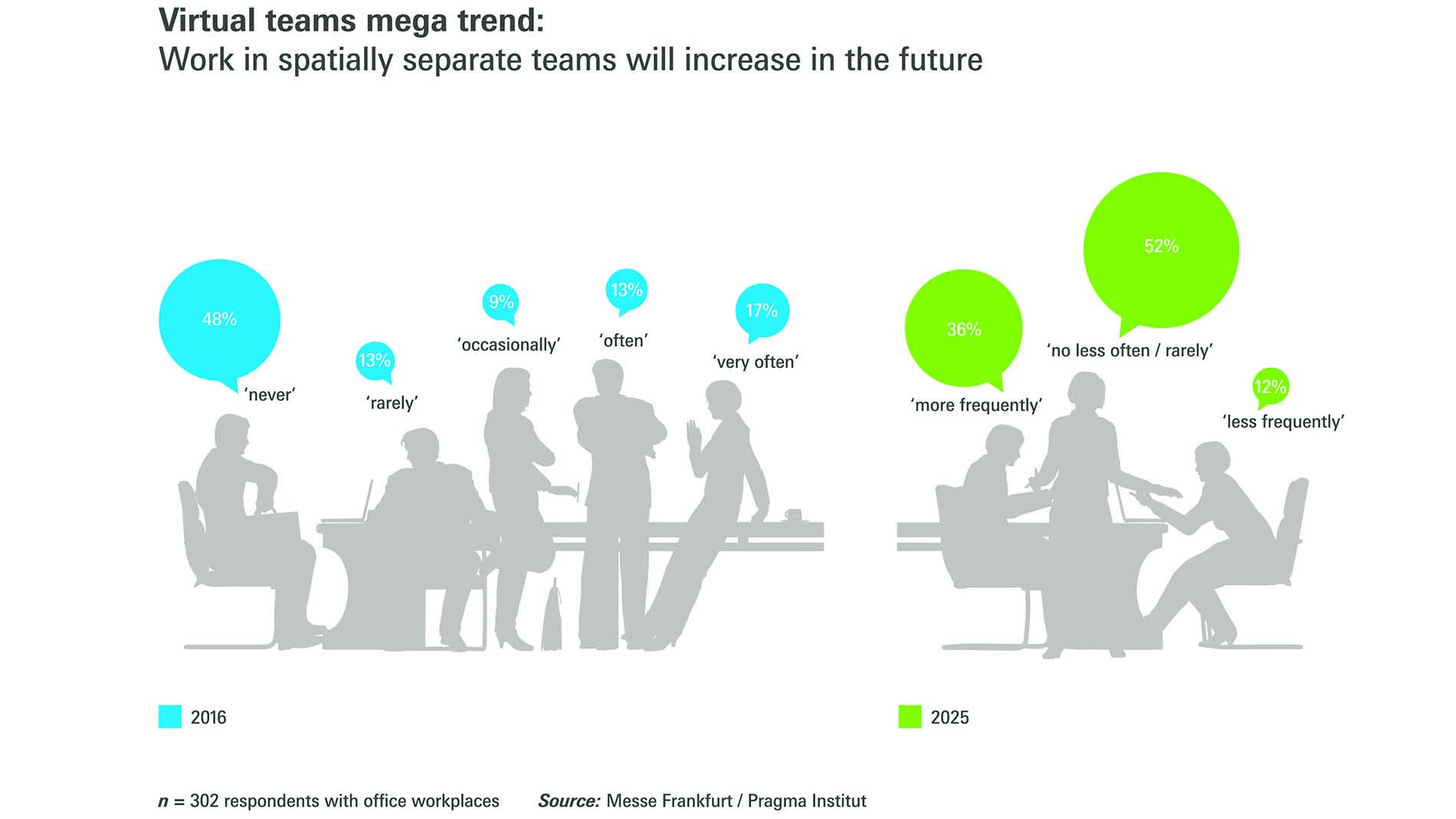 In spite of digitalisation, the traditional 'tools of the trade' continue to be important
Digitalisation, flexibility and movability of the office of the future, however, by no means represent a one-way street for workplace equipment and furnishings. Whilst, according to 62 percent of respondents, the importance of non-digital office equipment – i.e. traditional office supplies and stationery – will continue to decline, with 27 percent seeing further pressure towards digitalisation, 43 percent, nevertheless, think that there will be a new balance between digital and non-digital equipment. 81 percent of office workers rate non-digital equipment alongside digital items as generally very to quite important. Above all, the use of non-digital equipment impacts positively on 'soft' factors, such as job satisfaction and individual well-being. According to the participants in the poll, however, these products are less important for efficiency and data security in the office. And only nine percent of them think that traditional stationery and office supplies products will no longer be important at all, or will be very unimportant, in 2025.
Detailed evaluations of the individual products within general office and workplace requisites show clearly in which direction the new balance between digital and non-digital items is likely to shift. Accordingly, suspension files and filing cabinets will have reduced in importance by 2015. And so will ring binders and files, calendars and address books, together with standard envelopes and padded bags. But some IT products too will be less important: top of the list here - PCs and printers (up to 25 percent).  They will be replaced by laptops and tablets. Other non-digital items will either maintain their current position or gain in importance over the next 10 years, according to the respondents: leading the field here are the ballpoint pen and the text marker, closely followed by post-its and aids for tidying and organising things. The study suggests that manufacturers in the stationery and office supplies sector should focus particularly on presentational materials. Flipcharts, whiteboards and projector screens, say the office workers represented in the poll, will become more important by 2025. These products will benefit from future trends in cooperative working in informal meeting environments. The new products and services in the stationery, office supplies and writing implements sector, together with the sector's pioneering concepts for the office of the future, can all be seen at the leading international trade fair, Paperworld, from 28 to 31 January 2017 in Frankfurt am Main. 'Hello tomorrow' is the slogan and – particularly in the field of commercial office supplies, in other words in 'The visionary office' - the focus will be on the trends in the working environment of the future. In Halls 3.0, 3.1, 4.0 and 6.0, trade and professional visitors will find a selection of office appliances, equipment, furniture and furnishings, organisational and presentational materials, office stationery, writing and drawing implements, IT and printer accessories, as well as recycled printing materials. It is a range that is without equal anywhere in the world. The exhibitors' presentations of products and services in the office area will be complemented by a new, high-calibre dedicated display on the theme of the 'Workplace of the Future', which picks up on the findings of the study.
About the study:
The Pragma Institute for empirical strategic advice telephoned a total of 772 people during the period of November and December 2015 and, in a combined telephone and online survey, asked them to assess their office environments and their workplace equipment today and in 2025. The survey population was divided according to their office environment. 39 percent of the interviewees work in an office environment in a company or public authority, 33 percent work in a home office. 28 percent of respondents do not regularly work in an office, but use a work station at home purely for private purposes. The results outlined above relate to the information supplied by those respondents to the survey, who work in the offices of a company or public body.