In 2019, Paperworld will once again occupy the eastern section in halls 1, 3, 4, 5 and the Forum. See here how the halls are arranged and where you can find specific product groups.
Exhibition hall plan for Paperworld and Creativeworld 2019
State November 2018 – Subject to alteration
Hall allocation at Paperworld 2019
At Paperworld 2019, manufacturers of stationery, office supplies and writing instruments will be showcasing innovations and trends in the areas of "The visionary office" and "The stationery trends" at the Frankfurt exhibition grounds.
Here is an overview of the product groups and the hall layout for the two areas.
For the "Visionary office" area in halls 3.0, 4.0, 5.1 as well as in the Forum and hall 1, you will find a unique selection of products and solutions for commercial office, writing instrument, and art supplies.
| | |
| --- | --- |
| Hall 1.1/1.2, Forum 0 | International Sourcing: Office supplies for bulk buyers |
| Hall 3.0 | Office supplies: Office equipment, office machines, presentation aids, organisational aids, calendars, notebooks, shipping material, office paper, covering materials, business luggage, promotional articles |
| Hall 4.0 | Writing and drawing utensils |
| Hall 5.1 | Remanexpo, OEM supplies, remanufacturing of printer supplies, components for printer supplies, printer hardware and software |
| Hall 3.1 | Paperworld Trend Show |
Stationery hall allocation
Trend-conscious trade visitors will find innovative paperware and gift items in halls 3.1 and 4.0 as well as in the Forum and hall 1, covering the themes of gift giving, packaging and celebrations as well as high-quality writing instruments, bags and accessories.
Hall 1.1/1.2, Forum 0
International Sourcing: Paper and stationery for bulk buyers
Hall 3.1
Stationery supplies: Stationery, gift articles, lifestyle products, greeting cards, gift wrapping, ribbons, table tops, licenses, designs
Paperworld Trend Show
Hall 4.0
School supplies: School bags, pencil cases, exercise books, blocks, folders, writing utensils, drawing materials, pencils, licenses
Film about the new hall allocation
Following further growth on both the exhibitor and visitor sides at Paperworld 2018, the fair will expand its position as the pioneering event for the paper, office supplies and stationery sector. In 2019, the international trade fair will sharpen its focus on the visionary office and stationery trends with a new hall concept. Over 1,600 of the world's leading manufacturers and innovative start-ups will show what the future holds for the modern office and the private paper and stationery sector in seven exhibition halls from 26 to 29 January 2019. Find out more about the new hall allocation for the Paperworld 2019 in the film:
Restaurants, Snack & Café Bars, Markets
Looking for a place where you can have a little break from the hustle and bustle of the trade fair? On the exhibition grounds there is a selection of restaurants, markets, snack bars and café bars available.

Restaurants & Cafés
Cloakroom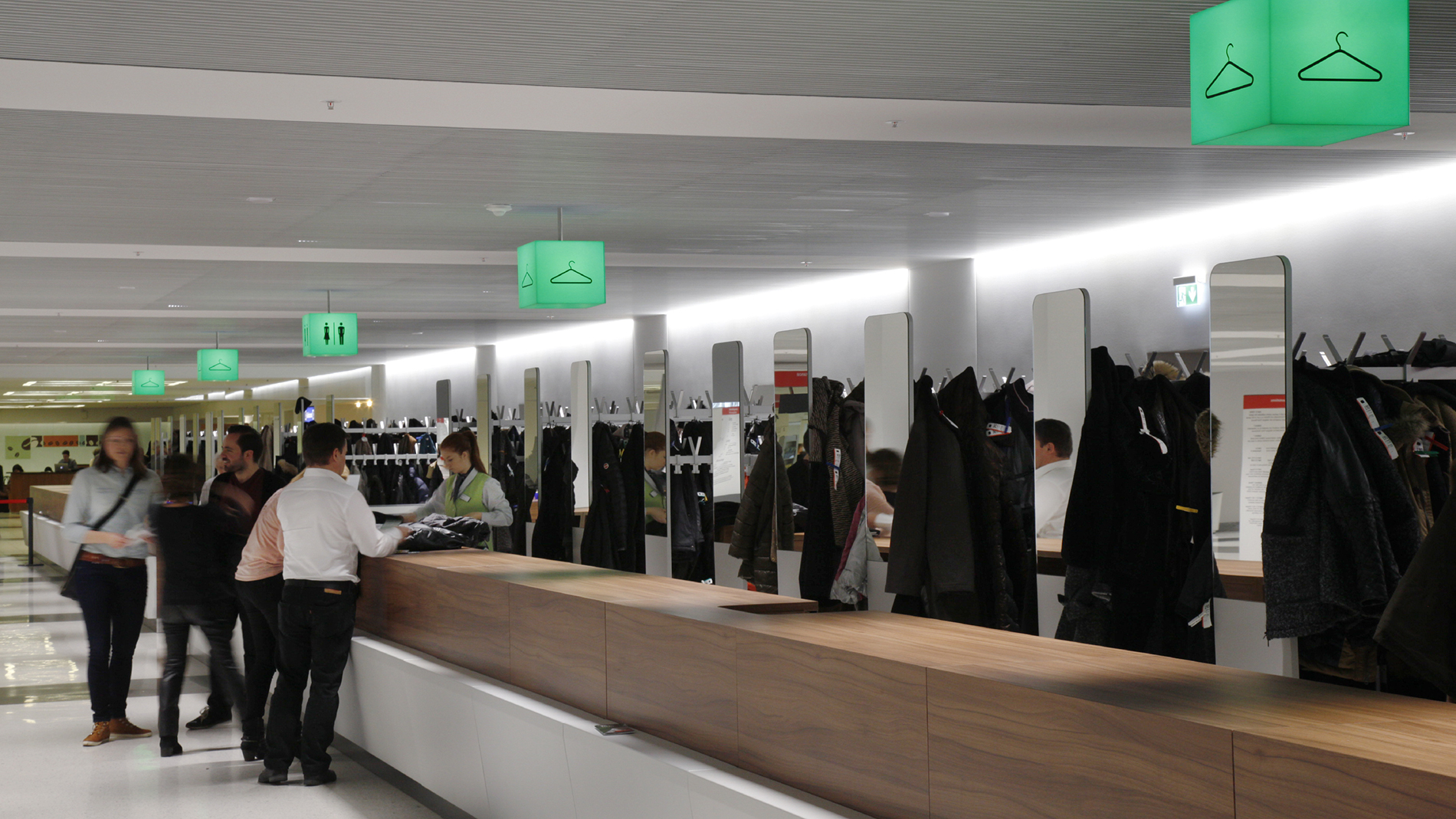 Cloakrooms are located at the main entrances to all halls, as well as the "Portalhaus", "City" and "Torhaus". The cloakrooms are open until 7 p.m. If you come later, you can obtain your garments from the central cloakroom. The central cloakroom is open until 9 p.m. Please follow the signs. There is a charge of EUR 2.00 for items of clothing/for pieces of luggage.
Prayer Room during Paperworld
Catholic pastoral care
The Trade Fair Chaplaincy is offerd by the Catholic City Church of Frankfurt and is supported by the Diocese of Limburg. The church center is located in Torhaus level 4.
Muslim prayer room
During the trade fair opening hours you will find the Muslim prayer room in Hall 10.4.